2007 Invitational
Final Results:
Overall Winners: Bob Lombard & Paul Stefanick - 126
Platinum Flight Winners: BJ Neinhaus & Charlie Partsch - 127
Gold Flight Winners: Michael Jordan & Mike Majewski - 128
Silver Flight Winners: Mike Zimmer & Jim Schreckenberger - 130
Bronze Flight Winners: Pat Connor & Ted Connor - 129
From the Buffalo News: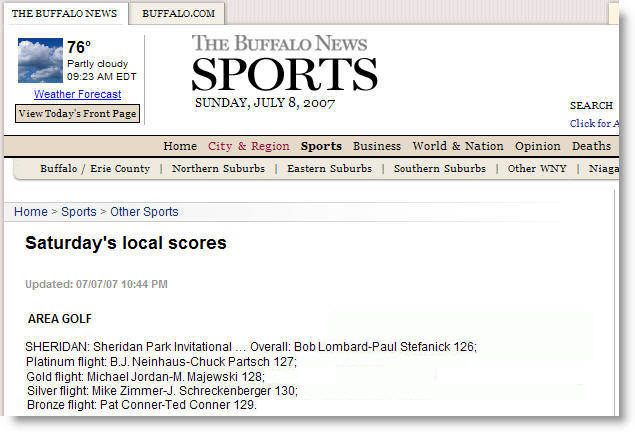 Congratulations to all the winners and thanks to all who participated!
---
Club Dignitary Injured by Errant Shot at the Invitational

Club Treasurer Joe Gugino Jr's errant tee shot on #10 during Friday's first round pinballed high in the trees in front of the picnic area, eventually coming down and hitting Doug Sawyer on the head while Doug was preparing hot dogs for the event. Mr. Sawyer was dazed and although it appeared he did not suffer serious injury, he was heard later complaining that it "now says Titleist on top of my head".
When later asked about the incident, Mr. Sawyer refused comment and directed all inquiries to his counsel, the honorable Mr. George Kubala. When asked to comment, George repeatedly asked everyone involved if they were paid up in the hole-in-1 pool before explaining that he's contemplating starting a new $2 pool to compensate club dignitaries injured by erratic shots at future club events.
Joe Jr. explained simply "I'm the worst golfer in the club".
Document Actions