2012 Club Championship
Congratulations to Mike Knott, Joe Gugino Sr, Joe Venezia, and Jim Inzinna on winning their flights in the 79th Men's Club Championship at Sheridan Park. It was Mike Knott's second overall Club Championship (the previous being in 2010) and it was Joe Gugino's 3rd, having previously won the Class B Championship in 1991 and 1992!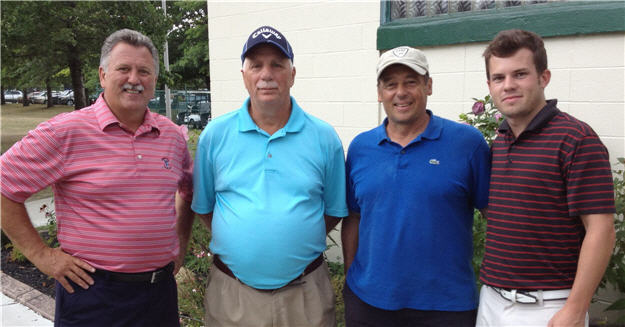 Pictured (from left) are Joe Gugino Sr, Jim Inzinna, Joe Venezia, and Mike Knott.

(Click on photo to get full resolution version)

Final Results were:
Class AA
- 1st -
Mike Knott
- 217; 2nd -
Jon Benson
- 224; 3rd
John
Lindner - 225
Class A
- 1st -
Joe Gugino
- 234; 2nd -
Kevin Kush
- 237; 3rd -
Charlie Card - 238
Class B
- 1st -
Joe Venezia
- 243; 2nd -
Tim Dean
- 244; 3rd -
John
Staerker - 246
Class C
- 1st -
Jim Inzinna
- 265 (Playoff); 2nd -
Glenn Eberhardt
(265); 3rd - Larry Noonan - 272
Document Actions