2021 Legends 2-Man Scramble
6/11 Update - Updated Teetimes, Flights, and Handicaps - click on the teesheet graphic below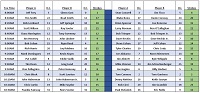 ----
Dear Members,
Sunday, June 13th marks the date for the annual Sledge Memorial 2-Man Scramble. After deliberation and conversation the decision has been made to transition this to a club event. SPGC wants to thank Billy, Johnny and the whole Lindner family for their dedication and contributions over the years for making this tournament a member favorite and one everyone circles on their calendar at the beginning of the year.
The club would like to introduce our members to the 2021 Legends 2-Man Scramble. For details and the format associated with this newly designed tournament please
Please utilize the below hyperlink to sign up your 2-man team.
Only one team member needs to sign their team up. In the comments section when signing up please list both team members (Example: Team Tiger Woods & Freddie Couples).
Just like all our tournaments, we will have tee times blocked off from 8AM - 12PM. Tee times will be dictated by how many teams we get signed up for the tournament.
For any questions please reach out to Scott Wilson (willy1273@gmail.com) and/or John Haberman Jr. (jhabes310@yahoo.com)
Document Actions