Town of Tonawanda Director's Cup
The Sheridan Park Golf Club has played the Brighton Park Golf Club in a 16-man per team Ryder Cup style match play tournament each Autumn since 1997. Through 2022, Sheridan has won 21 of 25 matches - including the last 20 in a row. There's a pretty cool trophy that's usually in our Clubhouse and if you're on the winning team you get your name inscribed on the trophy! Photos of the Trophy are below.
Our Club chooses the 16 members that represent Sheridan based on the order of finish in our Club Championship. Top 3 finishers in each Class get an automatic invite and the Club Champion in each Class has a captain's pick to fill the 4th spot in each Class.
Results of the latest (2022) tournament:
Sheridan 13, Brighton 11

Chris Baum/Rich Bly (B) def Mark Dominguez Sr/Jim Gramlich (S) 2-1
Mike Zimmer/Dave Notaro (S) def Ben Burl/Robert Bender (B) 2-1
Mike Moran/Pat Logan (B) def Scott Lawton/Dana Harrington (S) 2-1
Brad Smith/Larry Oliveri (S) def Jordan Honan/Mike Shanahan (B) 2.5-0.5
Keith Sawyer/Joe Gugino (S) def Dana Auman/Rocco Orlando (B) 3-0
Andrew Fox/Jason Danheiser (B) def Jim Ticco/Dave Rechin Jr (S) 2-1
John Haberman Jr/Jim Mohan (S) def Jeremy Dill/John Corrigan (B) 2-1
Dallas Ford/Dave Buckfelder (B) def Ron Pelligrino/Jon Benson (S) 2.5-0.5
Here's a photo from the 2021 event of Sheridan President Keith Sawyer hoisting the trophy with Dennis Murray from Brighton (on right) and an ecstatic Dave Notaro of Sheridan (foreground left). Click on the thumbnail below for a larger version.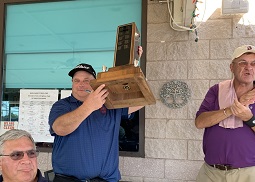 For closeup photos of the Trophy where you can read the names click on the links below:
Document Actions